After more than five years at BIG, I'm leaving. It's the longest I've ever spent in any job, and that's because it's the best job I've ever had.
There's some unfinished business, because there always is when working at an agency. Your work is never done. As one client takes a breather, another picks up the phone in a breathless panic. There's a new packet of business cards under my desk that will never be used and a whole host of strange and wonderful (more of the former than the latter) ideas from brainstorms that have yet to become a reality.
Life is all about finding out who you are, and for people in the marketing industry, an agency is the perfect place to do it.
BIG was my first move into the wide world of marketing. I joined as a senior account executive in what was then BIG's sports PR team. I said to myself I could always go back to scratch my journalistic itch, but for the time, a glamorous career in the world of sports marketing was worth a punt (I was hired mainly for my puns).
I leave, more than five years later, as an account director in a team which looks after two major sporting bodies, but mainly plies its trade outside the world of sport. I've worked on schools, gyms, accountancy firms, restaurants, hotels, energy drinks, architects, property developers, charities, manufacturing firms, food producers and more.
Pretty quickly I realised that although I loved sport, I didn't want to be defined by it. I didn't want to be a one-trick pony, or for fans of niche NFL references from the mid-noughties, I didn't want to be a Wildcat QB. What I love about sport far more than the action on the pitch is the stories. I'm probably far more likely to read a book by David Halbestam about basketball than I am to watch an NBA game and after retiring from rugby, my tales of a legendary career are more indicative of my skills as a storyteller than a rugby player.
While this seems like a bit of a ragtag roster of clients, viewers of any good sports movie will tell you that often that approach can work better than a sleek, clearly defined group which makes sense on paper.
What remains constant with every client I've worked on is a willingness to tell stories, and that's what I found I love to do more than anything else. What I enjoyed most about this job was getting to know clients and unearthing the little gems which best communicated their point of difference.
Starting with next to no experience in PR, I had the chance to learn at the feet of BIG's founders Alex Barr and Neil Gibson, work on integrated campaigns with experts in design, creative, digital advertising and search marketing, and I was given the opportunity to lead a team for the first time in my career.
And that's the beauty of an agency, this agency. You have the opportunity to work on a diverse range of clients, pick up skills from each sector and provide solutions by working together with experts in every area across the marketing mix, and you get to throw your own unique strengths into the melting pot.
I would have felt very guilty about the constant phone calls with pleas for help to specialists in PPC, SEO, social media, corporate communications, crisis management and public affairs if I wasn't called upon every time rugby was within a grubber kick from a campaign, or any time a daft wildcard idea was needed to put the finishing touch on a proposal.
As I wind down from a very fun but hectic, demanding but rewarding five years on the job, my compulsive checking of email is slowly beginning to subside. I might use this time to build a fort or attempt a modern art project with my unused business cards. I might finally engage my colleagues with conversations about the weather (it is quite cold, in Scotland, in October, isn't it?). I might sift through my 36,000 emails and compile a revenge list of all the people who called me Gregory or didn't start an email by hoping I was well.
Or I might attach this emotional letter to an email as a way of trying to sum up my gratitude to an agency which gave a fairly rudderless former journalist freedom and guidance to develop his skills, learn how to build relationships with clients, manage people, and discover what he wanted to do in his career.
I arrived in 2014 clean shaven, wearing a suit, tie and shiny shoes, ready to get to work on PR and crisis management for sports clients and a few select others. I leave still clean shaven, mainly because despite five years having passed, I still can't grow a beard, wearing jeans, trainers and a t-shirt, finishing up with a wide variety of brilliant, disruptive clients who I've helped across the marketing mix.
Big companies can take time to evolve, but in the reflective closing moments of my BIG career, I've been glad to work for a company that, despite its name, was never too big to change and never too big to take on board any ideas or suggestions from me, or any other member of the team.
When I left journalism, I was told over and over again that I was leaving to join "the dark side". I can confirm, despite the fearmongering, the lights are on in here. And as I leave to join DARING Foods, a Scottish startup specialising in plant-based chicken as Chief Brand Officer, I'm very lucky to have the experience and lessons gained from five years at BIG in my locker.
Goodbye Gregor and best of luck in the future!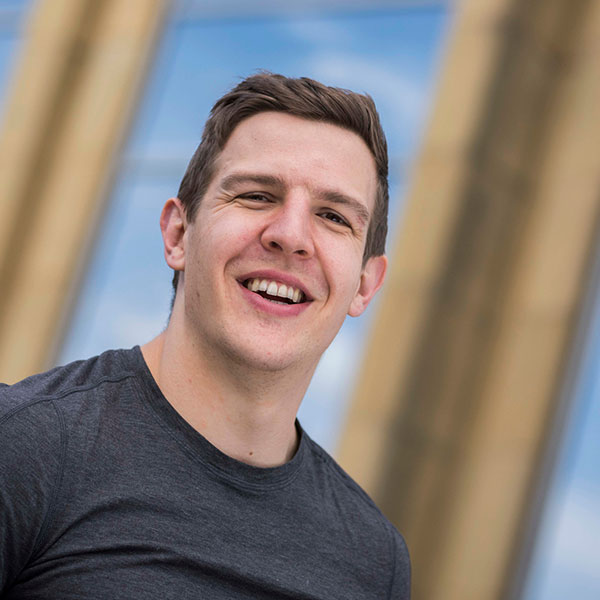 Back to blog