Worldwide active social media users passed 3.8 billion at the start of 2020.
Used in the right way, social media can be a hugely powerful tool for your business. Being active on social media gives a brand credibility. It builds trust. It allows you, the business, to create a community, engage in conversations, and ultimately increase sales.
Far too often though, businesses miss the mark in the social arena. Here's a run-down of the top five social media 'own goals' that we see on a regular basis.
You don't do 'you'.
Most people use social media in their free time. Who doesn't enjoy a leisurely lunchtime Twitter-scroll, or a quick pre-bedtime Insta-sesh? They're relaxed, and relaxed people respond to content that's in a similar vein. Your social media channels allow you to connect with your audience and show off your brand's personality. At BIG, we use monthly and weekly content planners to help us deliver the right mix of messaging for our clients, many of whom have benefited by replacing often stilted sales messages with real, relatable content.
You go chasing blue ticks
We've all seen the company profiles with shiny blue ticks and more followers than you can shake a stick at, gazed longingly at these social deities and wondered how they ever got so high up. Instead of chasing the so called 'vanity metrics', it pays to focus on the ones that really matter, first.
In simple terms, what are you trying to achieve by sharing that post, or by launching that campaign? Brand awareness, website traffic, leads? Whatever it is, make it your number one priority. Get this right and the followers will, well, follow. At BIG, we work with clients to understand their key points of customer contact, so that every advert or post has a measurable outcome.
You don't test your campaigns
A/B testing should be a critical part of any social media strategy. Rarely does a marketeer hit the nail on the head on their first try. Besides, how will you really know if you've nailed a campaign if there's nothing to compare it to?
By testing different audience targeting, copy and creative, you'll start to learn more about what your audience looks like, and the sort of content they respond to. It might be that your videos receive more engagement than your images, or that a certain product in your range generates more conversation than others. As time goes on, you can begin to make informed decisions on the type of content you share.
This constant learning cycle of test, analyse, optimise, makes up a fundamental part of all digital campaigns we deliver here at BIG.
You think all platforms are equal
It's important to distinguish between social media platforms. Facebook serves a different purpose to Instagram, and Instagram to Twitter, and Twitter to LinkedIn, and so on. Too often we see businesses using these platforms in exactly the same way.
Take Instagram for example; an image-based app designed for sharing photos and videos from a smartphone. Is your marketing mobile? Do you sell visual products? If you answered yes, then great – a well-run Instagram account makes total sense. If you answered no, then ask yourself, do you need it? What are your goals, and is your Instagram account helping you achieve these goals?
Do some research, figure out which social media channels best align with your business, and focus on these. You're far better off managing one profile well, than five underwhelmingly.
You don't react
The world is an ever-changing and unpredictable place; this has never been more apparent than in 2020. Planning your social media activity is great, but you should always leave room to react.
As our Director Bryan Garvie pointed out in a previous blog, "it's a bit of no brainer to set what you're doing in the context of what's going on around you."
Global pandemics aside, other forms of reactive social media might involve tying your content to big news stories or social media trends. Specsavers' sublime 2017 tweet in reaction to the famous La La Land/Moonlight Oscars blooper is a first-rate example.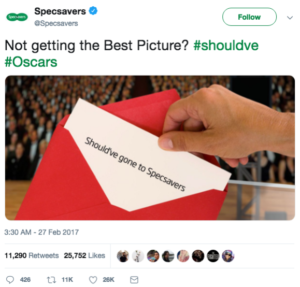 A word of warning though, don't force the issue here – make sure any reactive content you produce is in line with your brand and its values.
The social media landscape is a huge and fast-moving beast. By keeping these best practices in mind you'll help your business make the most of the opportunities it offers.
Speak to our BIG digital team if you'd like any more help or advice around the management of your social media accounts.
BIG Digital Team
Back to blog