As humans, we are all constantly curious. Whether it's finding out new information or building on the knowledge that we already have, we consistently find ourselves turning to the internet on a daily basis.
Enter search engines…
Search engines strive to quench our never-ending thirst for more information and ultimately make our lives a little easier. Which is why the term 'Google it' has probably become a huge part of your everyday vocabulary. On average, Google processes around 3.5 billion worldwide searches per day, which is around 40,000 search queries every second. Crazy, I know.
According to a study conducted by Moz in 2019, 84% of people use search engines at least three times per day so there has never been a more important time to promote your products or services online.
This blog explores the importance of the search engine and how targeting the right keywords can be a powerful tool to grow your business in an increasingly competitive marketplace.
What is Search Marketing?
Search engine marketing (SEM) is a tactic used to gain an online presence via paid and organic strategies on various search engines such as Google, Bing & Yahoo. It allows businesses to target users that enter specific search queries when looking for a particular product or service online.
Every day, millions of people turn to the internet to search. Whether they are looking for a last-minute holiday deal, the latest news, or a particular product, the first port of call is usually the search engine. To be specific, 68% of online experiences start with words typed into the search box. So why wouldn't you want your business to appear at the top of the search results at the exact time a user is searching for a similar product or service?
Think about the last time you searched for something online, what was the process? You probably typed your desired query into the search box, you hit enter and a list of relevant websites appeared on the search results page like below.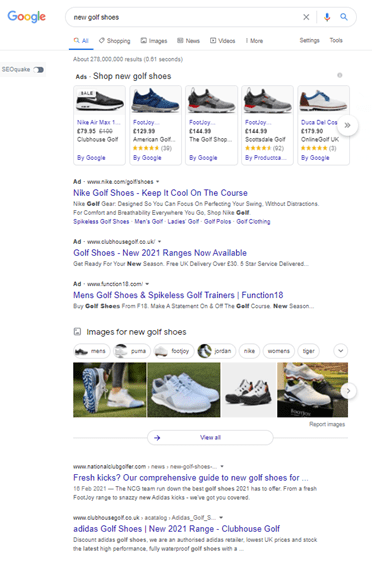 However, let me ask you something. How often have you scrolled past all of the results on the first page and immediately moved onto the next? My guess is not very often! Research has shown that the higher your website is on the search results page, the more likely you are to gain more online traffic (~75% of users never scroll past the first page on Google).
Now, if I was a betting man, I would say that your next question would be something along the lines of: "How can I show my website at the top of the search results page on Google?". Well, that is where search engine marketing comes into play.
The two main strategies that search marketers use are:
Search Engine Optimisation (SEO) – gaining online traffic via organic (free) listings
Pay-per-click (PPC) – gaining online traffic via paid listings
SEO vs PPC
Although they are grouped under the same overall strategy, PPC and SEO are fundamentally different marketing approaches.
PPC listings are paid for and appear at the top of your search engine results page. A lot goes into building a successful Google Ads strategy; from creating a relevant keyword list, to organising those keywords into targeted campaigns & ad groups, to creating ads that will encourage a user to click through to your website. The more targeted and relevant your campaigns are to the people that are searching, the less you pay for ad clicks – making for a more profitable campaign.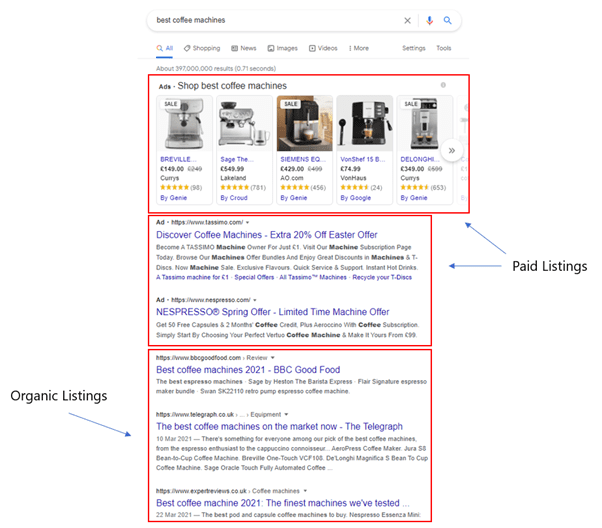 While organic (SEO) traffic is 'free', search engines are particular about who and how they rank websites when someone search for a keyword. The practice of SEO aims to climb those elusive rankings via a combination of technical, content and outreach elements. It's a slower burn and can take up to six months to really take shape.
With the top of the search results on offer you'd think that investing in PPC would be the more effective strategy to grow your business online? Well, that's not necessarily true and is entirely dependent on your business goals.
Various studies have shown that between 70-80% of users will ignore the paid ads at the top of the page and will focus on the organic results.
From my experience working in search marketing, I have noticed that users tend to turn to the organic results when using information/awareness-based search queries. The more intent a user has in purchasing a specific product or service, the more likely they are to click on the paid ads. Therefore, the importance of having a combined SEO/PPC strategy is crucial if you want to gain that competitive edge.
Regardless of whether you're running a PPC or SEO strategy for your business, targeting the right keywords is one of the main factors that will determine its success.
Why are keywords important?
Keywords are the foundation of an effective search engine marketing strategy.
As search marketers, our craft is dedicated to identifying the most relevant keywords to our client's objectives. This is a practice known as keyword research, which is the process of understanding the language your target audience uses when searching for your products, services, and content.
When conducting keyword research, we consider the following:
Relevance:
Target keywords need to be relevant to your business, its products, and the content on your website. For example, if you are a sportswear retailer, there would be little value in targeting users searching for a term as general as "trousers". This is just too ambiguous to be relevant to a sportswear retailer trying to sell running trousers – it would most likely be a waste of valuable time, effort and potentially money.
Keywords are only powerful if they mean something to your business and your potential customers – so you need to make sure you are targeting the right ones!
Competitor Analysis
Looking at which keywords are already sending traffic to your competitors' websites is a powerful way to understand what keywords are working for other businesses in your sector. It's also a great way to identify keyword gaps that you may not have considered during your initial research.
At a channel level, this is particularly important when creating an SEO campaign as it can fuel valuable content ideas that you are missing, and ultimately help boost your overall rankings on the search results.
The Keyword Funnel
In everyday life, we prioritise our daily tasks with the intention of achieving an end goal. Prioritising tasks ensure that everything you tackle drives value and keeps unimportant tasks from cluttering your to-do list.
Keyword research is no different. Many search marketers determine the value of a keyword by prioritising them in relation to the buyer's journey. This is one of the most important aspects to look at if your business goal is to generate more sales or leads. In search marketing, we call this the keyword funnel, which comprises four stages: awareness, interest, consideration & conversion.
Keywords that are grouped in the awareness phase (i.e. users who are doing educational research to understand and shape a problem/opportunity they currently have) may drive considerably more traffic than those grouped in the consideration phase due to the nature of the search, however that doesn't necessarily mean they will drive the most value for your business. Ultimately it's not always about getting as many visitors to your site as possible, it's about getting the right kind of visitors.
Prioritising keywords is the difference between aimlessly creating content for the masses and strategically capturing search opportunities.
The Power of a Keyword
The true power of a keyword lies within its ability to bring value to your end goal, whatever that may be.
Whether you are utilising SEO or PPC strategies, keywords can offer businesses the opportunity to capture the attention of their target audience at any stage in the buyer's journey. Whether it's putting their products and services in front of highly motivated customers at the precise moment they're ready to make a purchase, or simply providing more information on a specific topic, keywords provide endless opportunities for businesses to grow online. No other advertising medium can do this, which is why search marketing is so effective and such an amazingly powerful way to expand your business.
If you are curious about how you can create a powerful search marketing strategy for your business, then speak to one of our BIG digital experts today.
---
Back to blog