As marketers, we're no stranger to buzzwords, but it's always incredible to see how quickly their use can proliferate. Take 'proptech' for example – often-used in the industry, without any real agreement on what it means. We thought we'd have a go.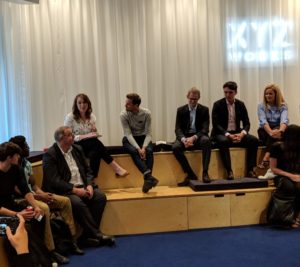 On 6th June we welcomed more than 60 property movers and shakers to a panel discussion that asked what proptech means to Manchester's burgeoning property sector. From BIM and virtual reality (VR) to smart homes and connectivity, it can encapsulate a wide variety of technologies and products, and gave rise to a wide variety of answers to the central question. Like we said; the definition of proptech can be very polarising.
Our expert panel included James Sidlow, project director for Allied London; Melanie Dawson, head of BIM at contractor GRAHAM Construction; Joe Averill, an expert in commercial transactions and asset management at OBI Property; and Andrew Callicott, associate director at MHA Architects.
With each providing a different perspective, guests were given great insight into the use of proptech and its future.
James Sidlow explained how Allied London is benefiting from proptech applications; from giving prospective tenants full VR tours of their developments, to improved information gathering and sharing between offices and stakeholders across the UK.
As someone that has his finger firmly on the pulse of what companies in Manchester are looking for from their office space, Joe Averill said that connectivity will continue to be key for all businesses in the long-term, with the most innovative new commercial buildings aiming for Platinum rated connectivity.
Melanie Dawson, meanwhile, predicted that the playing field could be completely disrupted by major tech firms such as Google and Amazon should they enter the property market. As they seemingly continue to strive towards world domination, Melanie said that these tech giants could be well placed to use the wealth of personal data they hold on users to identify how people want to live and what they want from homes and offices.
A recurring theme discussed was how to keep up with evolving technologies and sort the best new innovations from fads and gimmicks. Melanie said that the difference lies in whether or not a tech solution demonstrates a tangible benefit to the end user – whether that's a VR tour of an unfinished building or a Wi-Fi network that doesn't leave your phone or laptop losing connection every ten minutes.
With so many different points of view on the subject, it seems that proptech will never be one thing to all people. One thing we can say with certainty is that it's constantly evolving and as a new hybrid sector, it's here to stay!
A big thank you to all our panellists and guests and keep your eyes peeled for the next in our series of events.
If you would like to find out more about BIG Partnership and the work that we do in the property and construction sector, please give me a call!
Back to blog