This is the second instalment in our GDPR series. Click here to read the first blog, and stay tuned for the final one coming soon.
GDPR will no doubt present some challenges for organisations as they ready their employees for the changes and attempt to understand the complexities of GDPR in practice.
With so much to think about and so much to do, it may be tempting to push this responsibility towards your marketing, communications, IT, and even HR departments. You may even be tempted to ignore it altogether. However, the GDPR will impact every department that engages with and processes personal data on behalf of your organisation, and as of 25th of May 2018, there will be no option to 'opt out' of GDPR.
None-the-less, with just weeks to go, many organisations remain worryingly under-prepared – overwhelmed by the jargon and unsure of where to start. If this resonates with you, you may want to visit our first blog in this series, GDPR Summary: When, What and Why? to get some insight on why GDPR matters for your business.
For those that are currently preparing or about to get started, here's our GDPR checklist, highlighting some of the key things to consider right now to get you on track to being 'GDPR ready'.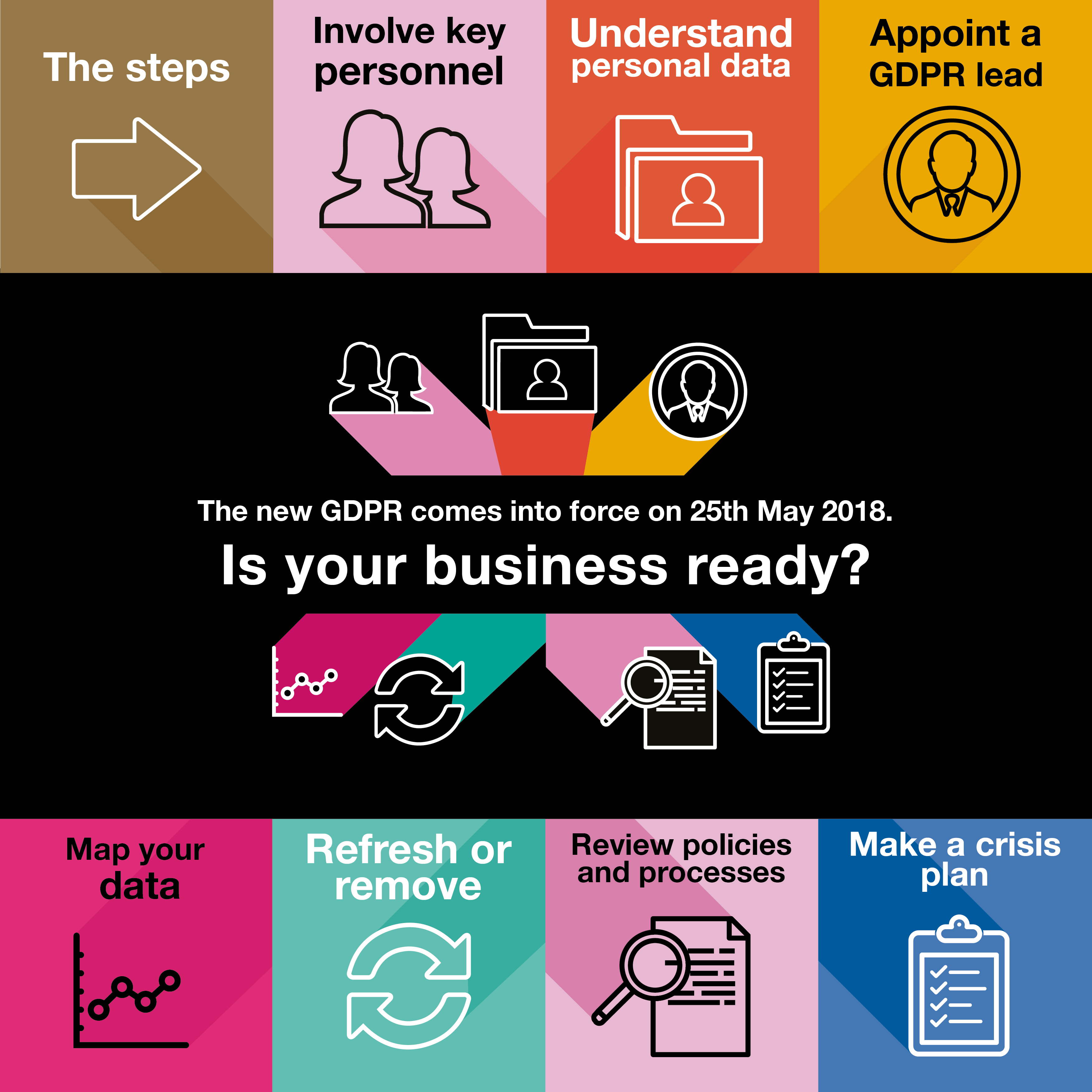 GDPR isn't just about customer relationships
When it comes to data protection law and processing the personal data of individuals, good practice and a commitment to full compliance with the law is everyone's responsibility.
Updating or putting in place new contractual arrangements with external suppliers and business partners to govern how you will use personal data will help to demonstrate compliance and mitigate any potential issues with processing personal data beyond your organisation. This might include electronic mailshots, managing your website data processing, or printing personalised invitations for an event.
This step is key for the organisation ('data controller') as well as the supplier ('data processor'), as both will have responsibility to be GDPR compliant when sharing data with one another.
In addition to customers and external facing channels, don't forget about the individuals inside your own organisation. Communicating new data protection policies and GDPR specific notices internally with your employees is vital to ensure that every employee is aware of what the GDPR is, what it means for your business, and what steps you are taking to ensure that you are processing personal data responsibly.
With that all said, emphasising compliance with GDPR across every part of your business and making a robust plan to prepare for the changes to current data protection law cannot be underestimated. At the very least, taking these basic steps to prepare your organisation will help you to start your GDPR journey and ensure that you have the necessary processes in place for continued compliance.
Planning for GDPR Compliance
As the saying goes, not having a plan is planning to fail and you really can't afford to fail when it comes to responsible management of the personal data of others.
In our final blog on GDPR, we will look at the potential opportunities that the GDPR presents and how improving your personal data processes can deliver a positive message about your brand and your business. Stay tuned!
Back to blog